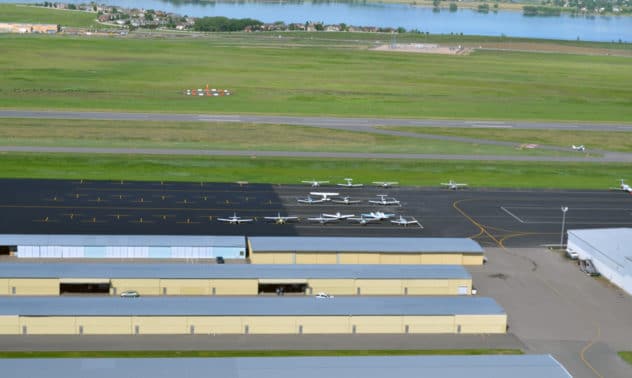 Airport Owned Hangars
There are 217 hangars at the Northern Colorado Regional Airport, of which 60 are owned by the Airport with 49 leased out. 58 units comprise the four (4) T-hangar buildings owned by the Cities.
On March 2, 2023 the Airport Commission directed Airport Staff to decommission all T-hangar buildings owned by the Cities. More information and FAQ can be found at www.flynoco.com/airporthangars.
A & B T-hangar leases terminate as soon as possible but no later than June 10, 2023. C T-hangar leases currently extend no later than August 10, 2023.
Airport Owned Hangar Attributes
Hangar Wait list is closed
Please see our Development Page to build a hangar
When box hangars are available, lease is by RFP (Request for Proposals)
Box Hangars
5251 Northrop
2,100 sq ft
Electric bi-fold door
Utilities not included
Box Hangars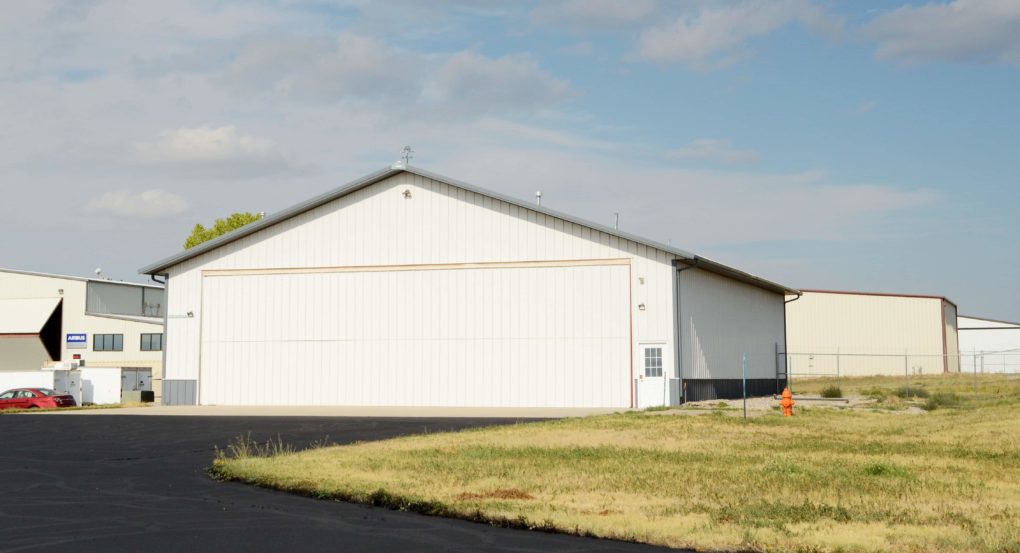 5220 Gulfstream
4,168 sq ft
Public access
Restroom
Electric bi-fold door
Utilities not Included
Airport Hangar Lease Information
Airport Hangar Leases are month to month and may be terminated without cause by either party with 30 days written notice prior to the desired termination date. Subletting is NOT allowed and will be cause for immediate termination of your lease as well as repayment of any and all fees received above the Airport's rates. Hangar rate increases occur every two years upon review and approval by the Northern Colorado Regional Airport Commission. When the rate is increased it is based on inflation which the Airport retrieves from the Consumer Price Index published by the Bureau of Labor Statistics for the Denver – Aurora – Lakewood area. If you are interested in reviewing the CPI yourself you may do so at: http://www.bls.gov/cpi/data.htm
Hangar leases are required to have one month's rent paid as security deposit and procure, pay for and keep in full force and affect insurance coverage with the following minimums:
Minimum one million dollars ($1,000,000) General Liability coverage or a limit not less than the maximum amount that may be recovered against the Cities under the Colorado Governmental Immunity Act, whichever is greater.
Insurance written in a form (COI) acceptable to the City of Fort Collins and the City of Loveland and marked "premium paid".
All policies of insurance shall name the Cities of Fort Collins and Loveland as additional insureds.
Notice within thirty (30) days of cancellation or material change.
FAA regulations stipulate hangar use is limited to aeronautical storage, storage of additional non-hazardous items is permissible provided your valid registered airworthy aircraft is the main item being stored (50% of the hangar).
Airport Managed Land
If you are interested in constructing your own hangar on the Airport, you may do so through a land lease. Please contact our office for any questions 970-962-2856.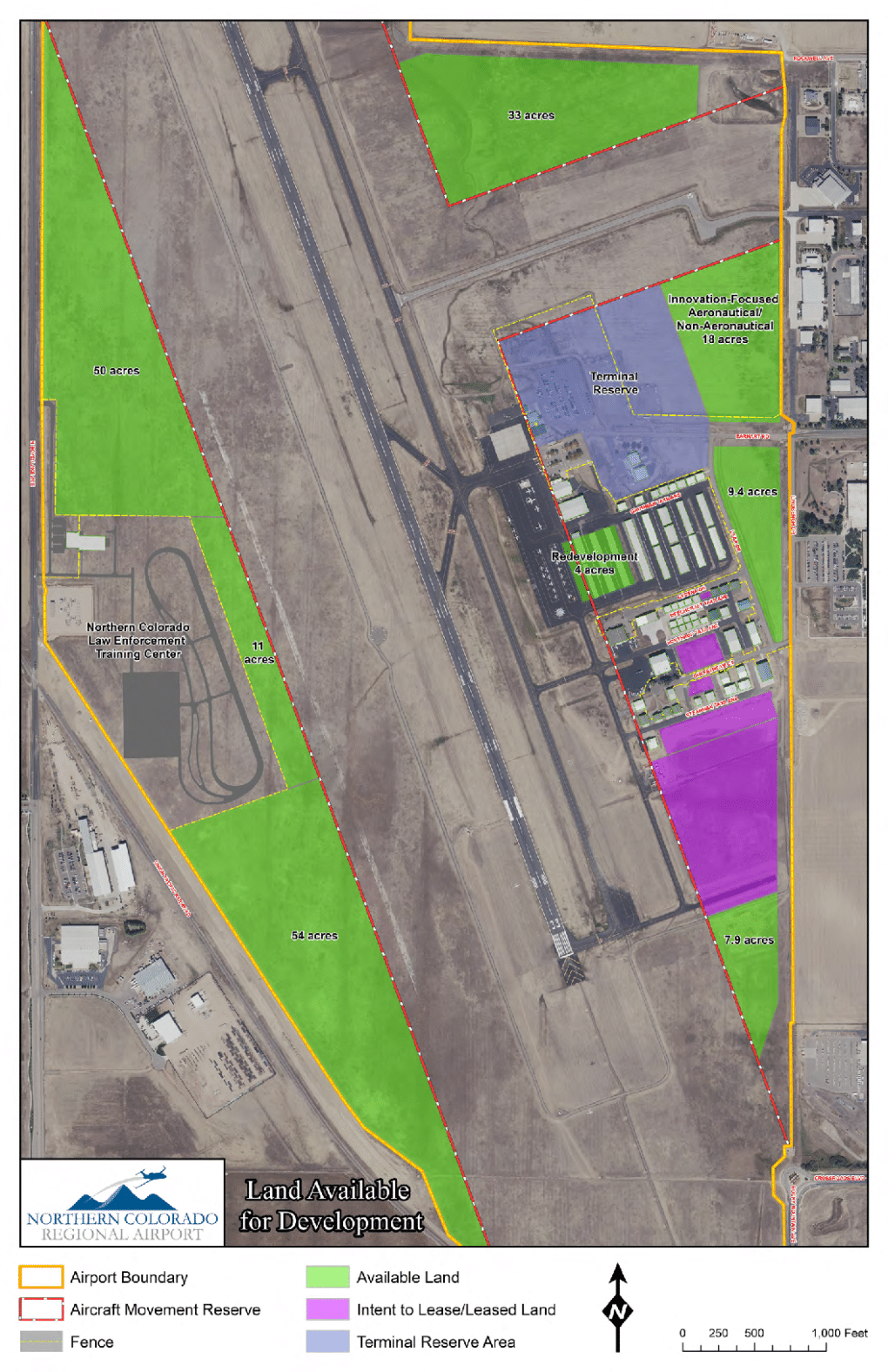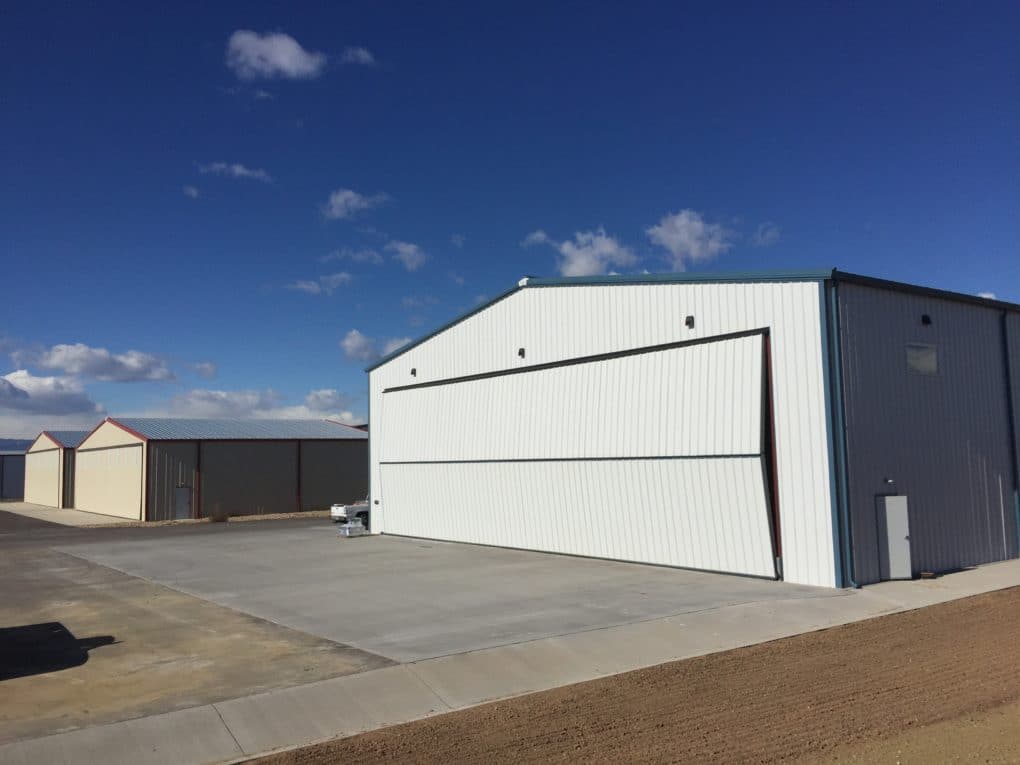 Privately Owned Hangars
The remaining hangars are privately owned and managed. A partial list of privately owned hangars available can be found at the FNL Pilots Association site, under classifieds or through local real estate brokers.
Outdoor Aircraft Parking & Community Hangars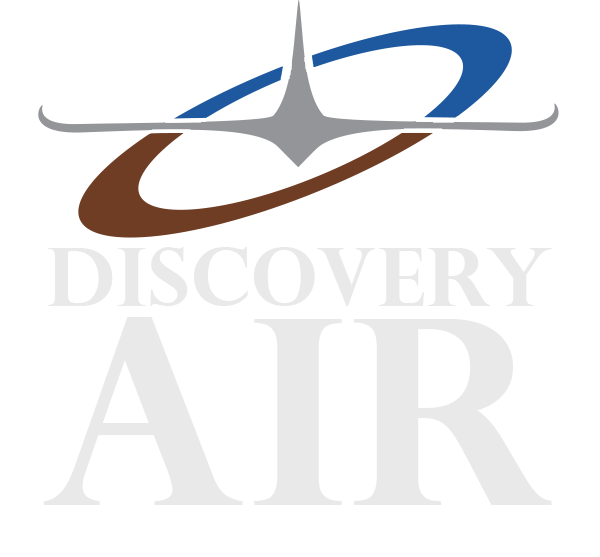 Discovery AIR manages outdoor aircraft storage and community hangars. Contact them for information on their rates.
Discovery AIR
5017 Lindbergh Drive
Loveland, CO 80538
(970) 460-8606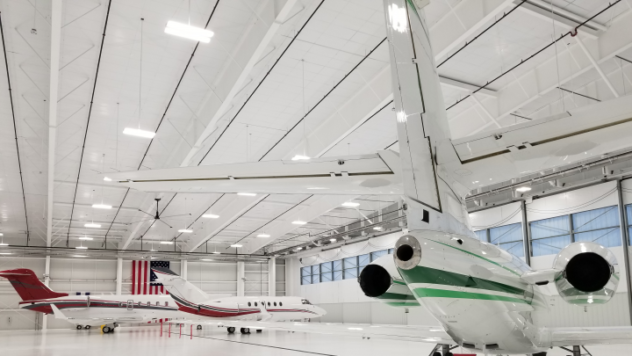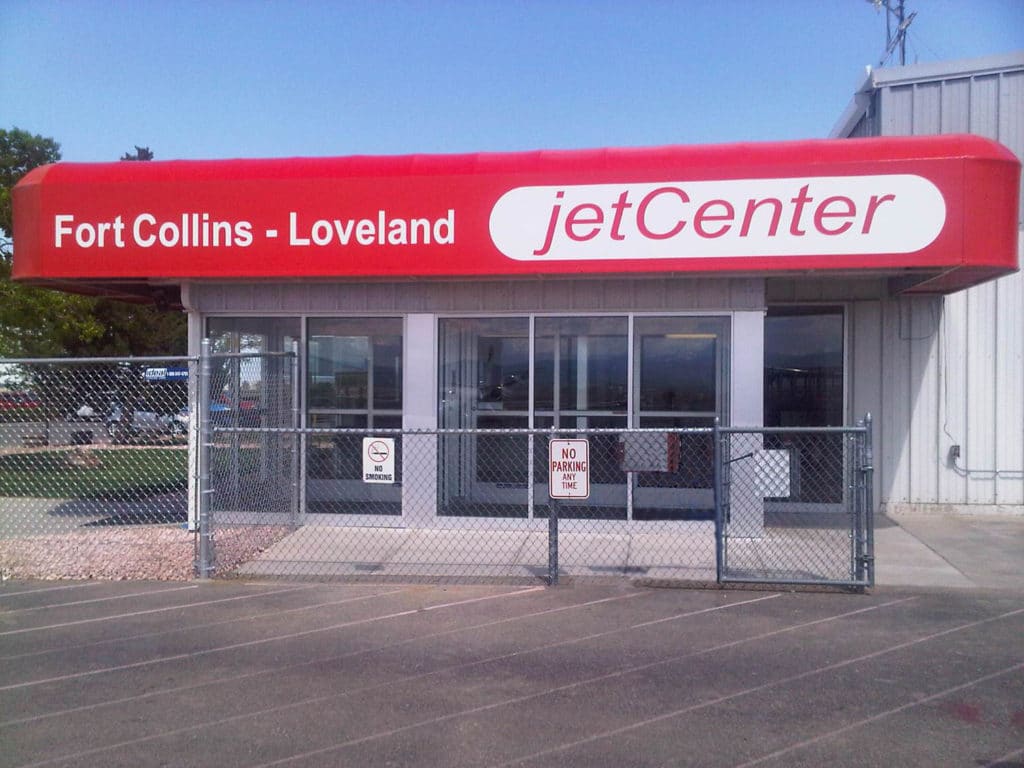 The Fort Collins – Loveland jetCenter manages outdoor aircraft storage and community hangars. Contact them for information on their rates.
Fort Collins – Loveland jetCenter
4824 Earhart Road
Loveland, CO 80538
(970) 667-2574
Quality provider of 23 small to medium sized hangars at FNL, available for lease starting Dec, 2023. Lease to own options available.
aeroFNL
9085 E. Mineral Circle
Suite 305
Centennial, CO 80112
(720) 574-2018
The Airport Commission Adopted the Aeronautical Hangar Use Policy on March 23, 2017
Summary

Hangars must provide the valid N-number for the airworthy aircraft stored in at least 50% of the hangar, to be updated to the Airport annually

In Airport owned hangars the N-number must be registered to the lessee

Fractional ownerships qualify provided official documentation reflects the lessee is an owner

N-numbers cannot be used for multiple hangars on the field to meet aeronautical use
Part-time aircraft will qualify for aeronautical use

Aviation businesses automatically qualify as aeronautical use
Active project planes may qualify for aeronautical use with caveats

Project planes must be registered/reported with the airport and
Quarterly updates with measurable progress must be provided, including photos of progress
FAA Policy on the Non-Aeronautical Use of Hangars at Public Airports:
FAA Policy on the Non-Aeronautical Use of Airport Hangars:
Airport Standard Land Lease Agreement, articles on allowed hangar use:
ARTICLE 3: USE OF LEASED PREMISES

3.1 Lessee shall use and occupy the Leased Premises for the following purposes and for no other purpose whatsoever unless approved in writing by Cities:

"3.1.1 For the construction, installation, maintenance and operation of a hangar building or buildings (the "Hangars") to be used for the parking, storage, servicing, repair, maintenance, modification, and construction of aircraft owned or operated by Lessee. Lessee's use of the Leased Premises, including use for storage of aircraft owned by Unaffiliated Entities, shall be of a non-commercial nature, unless a commercial use is approved by the Cities… The Leased Premises shall not be used for residential purposes."

"3.1.3 During the term of this Agreement, Lessee must regularly house at least one airworthy aircraft or at least one aircraft that periodically may be in active stages of assembly or reassembly in each Hangar, use each Hangar for the primary purpose of aircraft storage, and each Hangar shall be used for Aeronautical Activities only…"
ARTICLE 6: ADDITIONAL OBLIGATIONS OF LESSEE

6.11 Following the completion of construction of the Hangars, Lessee shall not store nor permit the storage of disabled aircraft or any equipment or materials outside of the Hangars constructed on the Leased Premises, without the written approval of the Cities.

"6.12 On forms and at the frequency prescribed by the Airport Manager, and with respect to each aircraft stored on the Leased Premises, Lessee shall provide the Cities with the (a) make and model (b) N-number and (3) identity and address of the registered owner. This requirement shall apply to aircraft whether owned by Lessee or another party…"
The Standard Land Lease Agreement can be read in its entirety here.
Airport Standard Hangar Lease Agreement, items on allowed hangar use:
"7. Use of the Premises. Lessee shall use and occupy the Premises for the sole and exclusive purpose of storing aircraft belonging to the Lessee, specifically ___________ (Make and Model of Aircraft) bearing Aircraft Registration Number ___________, and necessary aircraft ground handling equipment associated with said aircraft. The storage of non-aeronautical, household or personal items not associated with aviation is prohibited."