Airfield Construction Projects
Taxiway Bravo & Delta Rehabilitation
Rehabilitate the asphalt with a mill and overlay with local reconstruction as needed. Funded with an FAA Bipartisan Infrastructure Law grant. Hangar taxi lanes Stearman and Northrop will be rehabilitated as part of the project with local funds.
– Construction planned 2024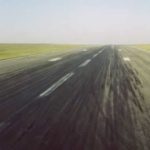 Runway 15-33 Widening Project
Increase runway 15-33 width from 100 feet width to 150 feet by adding 25 feet of pavement to each side of the existing pavement. A project identified in the Master Plan to bring the runway design in line with the standards for Aircraft Design Group III which FNL regularly serves. Funded by an FAA discretionary grant with state and local match.
– Construction planned 2025